Titusville is Home to the 16th Annual Birding & Wildlife Festival January 23-28 2013
The annual Space Coast Birding and Wildlife Festival has become one of the premier destinations for naturalist adventures not only in Florida, but nationwide as well.  Space Coast residents and visitors should try to set aside some time during the festival dates to explore nature.  Some of the top nature observation opportunities encountered  in East-Central Florida are featured.  While most events are focused on the natural areas of Florida's Space Coast, there are also events planned for the nearby public lands and ecosystems.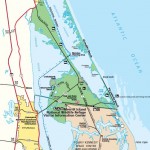 The festival is held annually in Titusville, Florida, and based at the Brevard Community College North Campus.  The scheduled activities run from January 23rd through January 28th this year.  Planned events will range from classroom presentations, to field observation, to water travel adventures.  Download the 2013 guide with this link: Space Coast Birding and Wildlife Festival Guide for 2013 .
There are always a wide variety of seminars and outside nature events to provide unique experiences interacting and learning about the many species residing here. Those of all ages and interests will find something to make attending this event an experience to remember.
With Florida well into the drier winter months at this time, outdoor nature activities are usually quite enjoyable with a little advance planning.  Those events which involve hiking along trails and back roads will generally find a inviting course of travel.  Most of the biting bugs so common to this area during the summer months are also dormant at this time so there is little need for potent repellent.
Many of the field trips will be in the Merritt Island National Wildlife Refuge which is in the immediate vicinity.  This unique and popular ecotourism destination provides endless opportunities for not only those participating in one of the planned events, but those wishing to explore on their own pace as well.  The many access roads (some closed to vehicles) provide hiking and biking activities for those of all interests and physical abilities.
Those wishing to observe and photograph our native or transient wildlife from the comfort of their vehicle will find the Black Point Wildlife Drive a great destination.  This well maintained roadway of  natural material winds along the lagoon with abundant opportunities to stop and photograph flora or fauna at a relaxed and leisurely pace.
Visitors should be aware that as of September 2011, there is a new fee for those wishing to travel this road of $5 which is a daily fee also valid for some of the improved boat ramps in the refuge.  One of these boat ramps is the Bairs Cove boat ramp, which offers limited parking nearby without paying this fee.  Though somewhat rare during the colder months, manatees are commonly encountered in the Haulover Canal near the Bairs Cove boat launch and worth the trip to see if any are around.  Visitors during the warmer months should definitely be sure to drop by this spot after their trip along Black Point Wildlife Drive.
For more information about this festival, be sure to check out the official festival website from the link above.  For more information about the area, be sure to also check out the pages on Florida Nature Guide dedicated to the natural areas of Florida where additional links to the Merritt Island National Wildlife Refuge and other public lands can easily be located.
Not only during this event, but whenever exploring our numerous natural destinations, it can be helpful to carry a wildlife guide to identify the birds, mammals or other unique species encountered.  Our Florida Nature Guide Wildlife Viewing website can be of help to those seeking to learn more about these interesting creatures and ecosystems.  Featured within these pages is also a helpful page for downloadable Florida Wildlife Guides produced by the Southwest Florida Water Management District as a helpful recreational tool.
Whatever your interest, be sure to check out the many nature opportunities which await during our 2013 Space Coast Birding and Wildlife Festival this month.