NOAA Extreme Weather Emergency Information Guides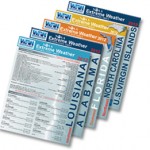 Published each year for the Atlantic hurricane season, the NOAA Extreme Weather Information Sheets are produced by the National Coastal Data Development Center (NCDDC) for the National Oceanic and Atmospheric Administration (NOAA).   These informative guide sheets are intended to provide critical local information for coastal area residents in the Gulf, Atlantic and Pacific (Hawaii) regions.  Within these guides, you will be able to locate resources for contacting government officials,  information resources (such as local radio stations), and contacting other public utilities or facilities in the case of an emergency.
NOAA Extreme Weather Information Sheets provide residents and visitors with a "one-stop" ready reference containing phone numbers along with Web site information they can use during potentially life-threatening weather or other emergencies.  While these information sheets have been developed to assist in the case of an emergency, they can provide a ready resource for general reference as well.  Contact information for many services and organizations which may be needed occasionaly for non-emergency reference can also be found within these guides.
NCDDC annually verifies all contacts, phone numbers, and Web sites listed on these emergency information guides since points of contact for various agencies change from year to year.  Every attempt is made to ensure that the latest information is provided in an easy to use and convenient format.  NCDDC also continues to monitor the information throughout the hurricane season and any updates are posted on the area guide of interest (available through the links provided in this article).
Links to all of the information sheets is provided here on Space Coast Florida in addition to the guide for our local area; the East Central Florida Emergency Information Guide.  These links provide ready access to the appropriate guides for our site visitors living in coastal areas other than the Space Coast.  Our experience with the NCDDC website has found it to frequently be unavailable, so the 2012 guides are also being provided from our website for those who encounter difficulties downloading from the NOAA pages.  These guides are current as of June 2012, but may have been updated since then with new information.
For extreme weather emergency information in Florida, you can download the 2012 emergency guides directly from the following links here on  Space Coast Florida:
Laminated, waterproof versions of the NOAA Extreme Weather Information Sheets are an ideal reference in the home, automobile, or boat.  These laminated information sheets are available free of charge, and are distributed through local emergency management agencies, libraries, fire stations, and other state, federal and non-profit agencies.  Anyone can also request a laminated NOAA Extreme Weather Information Sheet for their business, organization, or  personal use by contacting NCDDC.
If you have any questions or wish to order the 2012 laminated version, please use the Point of Contact information below.   Please provide your name, mailing address, name of desired information sheet(s), and the quantity desired of each.
Point of Contact:
866.732.2382
The latest NOAA Emergency Information Sheets which include any updates since last posted to Space Coast Florida can be downloaded directly from the chart below, or follow the home page links from the NCDD Weather Ready Nation site.
U.S.  Gulf States

U.S. Atlantic States

Other Costal Areas

Alabama

Florida

Louisiana

Mississippi

Texas

Georgia

North Carolina

South Carolina

Hawaiian Islands

U.S. Caribbean Territories