Fishing Guide For Florida's Sebastian Inlet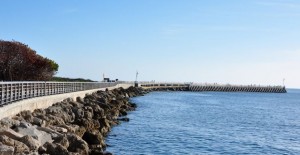 Spanning the southern end of Brevard County and the northern tip of Indian River County, the Sebastian Inlet is perhaps the premier fishing spot in Central Florida.  This relaxed Florida State Park and the adjacent undeveloped parks and shoreline is a popular destination for residents and visitors alike.
For those avid anglers familiar with Sebastian Inlet, the anticipation of driving to the inlet early in the pre-dawn hours can sometimes be almost too much to bear.  Thoughts of a wide variety of game fish  including snook, redfish, tarpon and just about every other possible near-shore saltwater catch preoccupies the mind.
As one nears the bridge, there is often a moment of internal debate.  Would it be best to fish the shoreline South of the jetty?  Perhaps today is the day to fish under the bridge from the southern entrance to the park.  Maybe it would it be better from the northern park entrance along the ocean side jetty walkway.  Once you finally set your goal and enter the park, your heart starts racing as you approach the water.  When you hook up on one of the inlet's famed redfish, huge snook or maybe a Goliath grouper, you understand why you made the trip to fish Sebastian Inlet.
Conditions and Specifics About Sebastian Inlet
The Sebastian Inlet is relatively narrow compared to other inlets and rather shallow as well.  Generally less than 20 feet deep, the currents are usually quite swift.  There are keys to being successful fishing Sebastian inlet, but it's not as simple as just wetting a line and hooking a fish. If you plan to fish below the surface, you will need to take plenty of tackle.  The rocky bottom (an inviting refuge for hooked fish) and never ending swift currents present challenges for even the most experienced anglers.
Current Conditions and Forecast for Fishing at Sebastian Inlet
Before you travel to Sebastian inlet for fishing or other recreation, it is always a good idea to explore the area in advance. Many individuals may be unaware that there are some great tools available to take advantage of to learn just about anything you would like before you go. The Sebastian Inlet Cam is a lot more than just that. With this great tool, you can quickly see what the current conditions are at the Sebastian Inlet including:
Current number of folks fishing the jetty (updated about every half hour)
Current weather conditions
Wind speed, direction, trend, and forecast
Tide charts for the inlet
Weather forecast for the day
Surrounding beach areas (can zoom in for more detail)
Latest Fishing Reports for Sebastian Inlet
Another great tool when planning a fishing trip to the Sebastian Inlet which is provided by the Sebastian Inlet District is an actively updated fishing report. This report is updated daily from Monday through Friday and includes great useful information to see what fish are running, what baits are working, and other details about the current bite.
Some of the photos are not today's catch, but the daily article clearly tells you that and gives accurate current information. Before you start your fishing trip, get prepared by learning more about the current fishing conditions at Sebastian Inlet.
You will also learn more from some of the local anglers to see how the current conditions have changed from their previous experience. The informative articles include details about up-coming events in the area and other items of interest. Be sure to read through some of the older articles to take advantage of their knowledge.
Some General Information About Sebastian Inlet
There has recently been some construction in the Sebastian Inlet area, so plan for things to change from time to time. Bridge work appears to be an on-going project, so take advantage of the other links from the Sebastian Inlet District (above) to see what the latest condition is.
The catwalk fishing platform on the southern end of Sebastian Inlet is somewhat different from the jetty pier on the North jetty.   On this structure, you can get over the water and fish for game fish. The bridge support piers provide snook and other big game fish an ambush point for the bait which gets pushed to them by the strong currents.
Make sure you have sharp hooks and plenty of weights of all sizes.  Depending on the current at any given time, and the location you have chosen for your vantage point, it may be best to choose a lighter weight.  This can allow you to avoid some of the rocky structure below by keeping the bait above it.
Top fish choices for Sebastian Inlet
Snook fishing is a top draw in the Sebastian Inlet.  The ambush style hunting technique snook are known for and the abundant baitfish pushed into Sebastian Inlet create an ideal environment for the species.  Sebastian Inlet is absolutely loaded with them at times.  These fish have somewhat adapted to the techniques of anglers targeting them.   On certain days they are found to be picky and will only eat a certain bait, on other days, anglers will find that most anything put in front of them will be snatched immediately.
Schools of redfish are often known to stack up on the jetties as well.  These impressive schools can be found in abundance, gorging on any baitfish that gets in their way.  The bigger redfish (sometimes 30 pounds and up) can be found to stage in the channel as well.  One method found to be successful when targeting these monsters by boat is to drift with crabs and cut baits or fingerling mullet.  Once these guys realize they're hooked, they put up quite a fight, and can be a real accomplishment to bring aboard without loosing to the rocky bottom.
Snook and reds are what Sebastian Inlet is best known for, but just about any other species popular in the central Florida area can be found here as well.  Predatory fish of all types stack up along the rocks and bridge pilings, in position to ambush anything that comes their way.  The strong current in Sebastian Inlet pushes bait in and out and provides an irresistible draw for schools of seasonable game fish.
During the winter, when the snook become lethargic and either don't eat or move out of the inlet entirely, anglers can turn their attention to flounder. These fish are also a huge draw for Sebastian Inlet fishing. Many have found that the best way to target these fish is to bounce jigs off the bottom or use mud minnows.
Goliath grouper can sometimes be caught in a hole located just off the northern jetties.  Although this protected species has become a nuisance for some anglers, those seeking an experience to remember can often be rewarded by landing this challenging species.
Bluefish and Spanish mackerel make appearances along Sebastian Inlet in the spring, winter and fall. These toothy species command some careful consideration and respect in handling.  They  are not only capable of removing part of your hand, but can also tear up light tackle or bait.  Spoons and small live baits are the best choice when targeting these voracious fish, but when they are prevalent in the inlet, just about anything with a hook will get hit as well.
Fishing the Sebastian Inlet at night
From spring to summer, the best time to fish the inlet is during tide changes at night.   The heat of summertime in Florida can be uncomfortable for anglers waiting for eager fish to strike, and the dusk to dawn period is usually more productive as well.
No-see-ums are the main challenge to fishing Sebastian Inlet from dusk to dawn.  The worst times are usually near dusk or dawn both before and after.  Mosquitos are common to the area as well, but they respond better to DEET bug repellents than no-see-ums do.  During the darker nighttime hours, these critters are usually less of a problem, but prepare in advance when fishing this popular inlet.
Be sure to pack bug repellent with a DEET concentration of at least 28%, but plan to wear a lightweight long sleeve shirt, trousers and shoes which actually cover your feet.  During the late night hours, you may often find that just the bug repellent will do fine, but The same recommendations apply to those who would like to camp at the southern side of Sebastian Inlet State Park.
Fishing Sebastian Inlet by canoe or kayak
Fishing Sebastian Inlet by canoe or kayak can be best performed on the Indian River Lagoon side of the inlet.  The currents along the channel and the waves on the ocean side make managing tackle, fish and boat a challenge for even the most experienced paddler.  Launch your boat at the marina located just a couple of miles to the North of the State Park, and paddle South towards the inlet.
The marina charges a small fee to park and launch boats (including kayaks or canoes), and does not recognize State Park daily passes, but the fees are nominal and worth the cost.  From the time you launch, you are able to start exploring fishing opportunities in an ever changing fishery.  One popular destination is to head North and fish the structures encountered along the way.
Etiquette Recommendations for Sebastian Inlet visitors
Usually the inlet is tranquil, laid back, and can be a good place to meet others who enjoy fishing to share experiences.  There are not usually huge crowds, but the northern jetty fishing pier becomes a popular location if any particular game fish species is running at the time.  The cooler winter months tend to bring more anglers to Sebastian Inlet both local residents and seasonal residents.
Although Brevard County does not experience a great deal of population increase from "Snowbirds", Vero Beach and other areas to the South have a significant influx.  These additional residents can sometimes make the northern jetty in particular somewhat crowded from Thanksgiving Day through Easter.   Although visitors will find Sebastian Inlet fishing a rewarding experience wherever you choose, the North jetty location extends further over the open water and tends to be the top pick for anglers.
Most problems tend to occur if a person hooks up, and others swarm to that spot to throw their lines in.  While this is generally considered inappropriate behavior, it does occur from time to time.  Add to the increased number of lines, the swift current and rocky substructure, and tangles are inevitable.  The inlet will claim plenty of your gear on a good day, so if fishing Sebastian Inlet, our advise it to be patient and respectful of others.
Additional notes for Sebastian Inlet
There is a camp ground should you decide to stay a few days on the southern end of the jetty.   The cost for camping in Florida State Parks is very reasonable, but reservations should be made in advance since space is more limited than some commercial parks.
Given the number and variety of fish available, Sebastian Inlet remains the premier fishing spot in Central Florida.  Ft Perce Inlet and New Smyrna Beach Inlet are wider inlets, but this area of the Indian River Lagoon is a productive fishery and has no other significant access for hungry game fish cruising the shoreline between the two.  Cape Canaveral is obstructed by the locks for ship access and does not provide the open travel Sebastian Inlet does.  This makes for some very eager fish with one thing on their minds.
Located at the northern tip of Indian River County off Route A1A about 45 minutes south of Melbourne, Sebastian Inlet can be a tricky fishery.  With all its rocks, you'll need to carry plenty of gear.  Virtually all the fish there can be found in the channel which extends from the Indian River Lagoon to the ocean.
The best way to navigate the jetties is to have a cart for your fishing gear.  Take several rods and vary your baits to see what the fish want on that particular day.  Fish the catwalk at night or during tide changes with Bomber lures for snook. Use heavy leader as the inlet does have its share of big fish.  Remember that snook requires an additional license certification in order to legally harvest as well as specific size, season and bag limits.
Among the species available on a regular basis at the Sebastian Inlet include bluefish, Spanish mackerel, snook, pompano, redfish and tarpon.  Throughout the year, anglers will find that the top performers vary.  If you would like to target the season's best bet, choose from the list below depending on the date of your visit.
Seasonal Best Bets for Sebastian Inlet Fishing
January's Best Bet – Pompano
February's Best Bet – Bluefish
March's Best Bet – Shrimp
April's Best Bet – Whiting

May's Best Bet – Lookdown
June's Best Bet – Spanish Mackerel
July's Best Bet – Sandperch
August's Best Bet – Mangrove Snapper

September's Best Bet – Redfish
October's Best Bet – Snook
November's Best Bet – Sheepshead
December's Best Bet – Flounder
Note: The Florida State Parks has recently "updated" their website and many of the useful links they provided are not available. Once we are able to locate additional links of use, this article will be updated, so please check back to see more about fishing in the Sebastian Inlet area.
Additional links for your Sebastian Inlet fishing trip: