Highlights & Information About Moccasin Island in Viera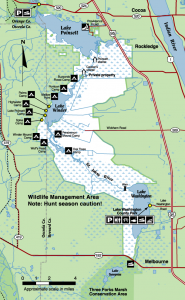 Moccasin Island has recently become a frequent destination for nature lovers in the Space Coast.  This local destination is close at hand and it is not uncommon for those visitors to the nearby Rich Grissom Memorial Wetlands (aka Viera Wetlands) to make the trip.  This article is provided to help those planning a trip to this natural area an overview before making the trip so they can know what to expect.
While Moccasin Island is in the heart of the River Lakes conservation area, and one of the closest natural areas for many residents, it is not necessarily the best destination for some.  Without amenities, regular maintenance or upkeep, the area presents some challenges for visitors.  Take a moment to read our highlights below before you plan a trip to Moccasin Island.
Location and general directions for Moccasin Island
Visitors traveling westward along Wickham Road from I 95 will find that after passing the residential neighborhoods, the road turns to unpaved natural surface and ends in a parking area at the Viera Wetlands (see map).  By following the road to the right then dog legging to the left  at the entrance to the water treatment facility you will find yourself travelling a long unpaved roadway which is used for service access to the Duda Ranch & Sod farms.  This road (identified still as Wickham Road) is also the road to Moccasin Island.
There is a gate located just prior to the sod farm office which is locked from 7 pm to 7 am.  Visitors who do not properly judge their visit will find some difficulty getting anyone to let them get out.  The public lands are only open during these hours for your recreation.
The posted speed limit is 25 mph along this roadway and due to the ever changing road conditions as well as frequent wildlife (snakes, birds, cattle …) should be observed at all times.  There is no stopping allowed along this roadway and the property on both sides of the road are Duda Farms private lands.  The Duda employees along with Brevard Sheriff, SJRWMD, FWC officials will point this fact out if you feel the need to consider this road an extension of the Viera Wetlands drive.  To be honest, with the exception of frequent birds in the canal just West of the entrance, there is little wildlife for viewing along this 3.5 mile stretch.
Upon arriving at the end of the 3.5 mile roadway, you will find a grass parking lot with a kiosk displaying some helpful information and maps.  The roadways to the South and North are gated and not open to travel by any motorized vehicle except for authorized employees and officials.  The roads are open to foot travel, biking and horseback travel and can be entered by walk-in gates provided.  Travel is also permitted along the canal heading westward to Lake Winder.
General Overview of the Moccasin Island Tract
With the exception of cattle, egrets, herons, Sand Hill cranes, the occasional hawk, sparrows, and maybe an alligator near the bridge, there is little wildlife to be observed from the comfort of a vehicle at Moccasin Island.  Any visitors expecting an island in the traditional sense or unprepared to rough it a bit will probably be disappointed by their trip to this River Lakes destination.  When hiking or biking this undeveloped natural Space Coast collection of ecosystems, I observe numerous vehicles driving all the way down the dusty or muddy road only to pause momentarily at the end, turn around and drive back.
The Moccasin Island tract is part of the River Lakes conservation area and managed largely by the SJRWMD (St. John's River Water Management District).  Duda Farm and other official organizations provide occasional mowing or other maintenance operations to allow general access to this area.  The primary recreational opportunities are for those who seek to get off the beaten trail and forgo the usual amenities or conveniences.
Printable Maps for the River Lakes Moccasin Island Tract
A recent addition to our site here at Space Coast Florida is the development of a map collection for Moccasin Island.  Click the link provided to download a PDF document you can print for trail and exploration efforts in the area.  These maps are provided from both our map development and documents provided by the SJRWMD.
Specific Observations about Moccasin Island
Access along the service roadways and canal  are not consistently maintained.  Grass tends to grow during the wetter months the heights waist high even along the main service roads.

Travel along the canal westward can often provide some wildlife observation, but can be difficult at times.  The first 3/4 mile is usually pretty accessible, but a short distance from the hunter access area is intersected by a ditch which is difficult to cross from March to December.  Any mowing to maintain this travel route pretty much stops at that location as well.

Frequent residents of the area include the pygmy rattlesnake and water moccasin, so take care of where your feet are traveling.  During the wet season, many areas are flooded and dry trails are a popular destination.

During the heat of the summer, it is not uncommon for the pygmy rattlesnake to seek the cooler area of forested areas.  They are often encountered in the crevices of tree roots, so take some extra caution if you are taking a break from the heat to explore some of the local forest areas.

Cattle are not well contained during the wetter months when ranch employees don't have to be as concerned with feeding or watering, so expect to come up on small to medium sized herds whichever direction you follow.  During the dry months, most of the cattle are moved from one fenced area to another, but generally found together.

When biking the roadways, even the most alert and agile biker can expect to encounter dung which is unavoidable, so expect some messy tires and bike frames.  Even hiking can be a real challenge unless you plan to get "down with nature".

If planning a trip to Moccasin Island during the authorized hunting seasons, take extra note of the sections where hunting is allowed.  Avoid hiking off the main trail in these areas if possible for safety sake along with respecting the hunter's right to recreation of his or her choosing.

When the road conditions are good, a good choice for hiking or biking is the Oaks shelter off the yellow trail to the South.  This route provides an opportunity to enjoy several ecosystems and cool off a bit under the shade of the forested areas.

Take a bit of caution when approaching the Oaks shelter since there are often less cautious individuals target practicing by shooting the trees in the direction of area trails.  Air boat enthusiasts often seek this location and are unfamiliar with the trail access areas.
Other Information and Overviews for Moccasin Island
When seeking information about many of the natural areas found in the Space Coast or East-Central Florida in general, a great blog and collection of photos is available from

Tom Choma

.  Tom has hike information and photos from a great many destinations of interest in Brevard County.

If you want to see more about this trail or any trail destination in Florida, check out the research page we have developed by

Florida Nature Guide

.  Our

Hiking Research page

 was developed to just search for articles by notable trail experts.  Skip all the junk results from marketers and see what the experts for not only Moccasin Island, but Florida in general say by using our "Hiking Research page" link above.
Note:  This article is still under development.  There are some planned additions to expand this overview, so be sure to bookmark it for future review.  This great Space Coast nature destination has a lot to offer those who would like to explore Florida's natural areas, so drop back by soon and see what's new.