Site Introduction and Overview of Space Coast Florida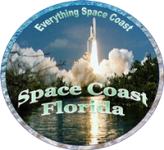 Space Coast Florida has been developed for all interests related to the Brevard County "Florida Space Coast" area.  Within the menu options provided, or by keyword search, it is our intent to provide valuable links to helpful resources, tools and articles beneficial for Space Coast visitors and Brevard County residents.  Our site content is being added to constantly, so be sure to check back as we develop additional items of interest for Space Coast adventures and daily activities.
Recommended Sites for your Space Coast Adventure

As we work to further develop our site, you are encouraged to drop by our Florida Nature Guide site for all interests related to Florida naturalist adventures.  Within the pages provided, you can locate areas throughout Florida for naturalist adventures.  Links to public outdoor recreation, trail and area reviews, maps and all interests related to Florida nature are the focus of our sister website.

Those seeking adventures along the shoreline of Florida's Space Coast will find our site dedicated to Florida Coasts of benefit.  This section of Florida Nature Guide focuses on the Florida shoreline.  Articles, reviews, guides and helpful area resources can be quickly located within the pages provided in this section.

Another sister site of interest on Florida Nature Guide includes our Wildlife Viewing site.   This section has been developed to provide information found to be helpful for those who would like to observe the unique wildlife found in Florida.  Helpful guides and links to locate and identify the diverse species of birds, reptiles, plants, animals and ecosystems encountered will be found within this site.  There are also free printable guides available to take with you on your outdoor adventures.
An article which Space Coast visitors seeking local naturalist activities will find of interest is our page dedicated to the Viera Wetlands.  This short review highlights a less known local treasure for those who would like a nature observation opportunity, but are unable to dedicate the time to explore the more remote nature areas of Florida's Space Coast.
All of our sites have been developed with the intent of keeping advertising at a bare minimum.  We believe the attention to profit can sometimes become a distraction which detracts from the site navigation. The same principle applies to the sites we provide links to.  Every effort is made to find resources which have minimal obstacles for your research of Space Coast interests.
It is our intent to create and promote helpful, fun and easily navigated sites.  Those who would like to help us develop any of our pages by providing recommendations or articles of interest are encouraged to email us or register as a member in order that we can share planned site developments.