Highlights of our Space Coast Nature Adventures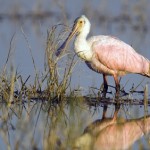 Space Coast Nature exploration opportunities abound in the numerous Brevard County public lands available for recreation. The Space Coast area remains relatively undeveloped when compared to major metropolitan areas of Florida.  This, in addition to the focus on nature conservation of the local communities has preserved much of the natural ecosystems in the Brevard County area.
This page and the associated drop-down links are being developed to feature some of the abundant nature activities available in Florida's Space Coast.  A wealth of unique nature related activities are available close at hand.  Many of these naturalist destinations are easily accessed from major highways and the creature comforts of our local towns.
Browse the links provided here for more about the nature adventures of the Space Coast area.  Additional Space Coast nature destinations will be added to the links available in our menu at the top of this page, so be sure to return for new nature destination information.

For all naturalist interests in Florida (including the Florida Space Coast), visitors are encouraged to browse the pages available from Florida Nature Guide.  In the various sections available from the home page, you will be able to access a variety of resources for your outdoor Florida adventure.
While we work to add additional articles and links for Space Coast nature activities and destinations, visitors should take a moment to check out the Hidden Gems website. This site features some very interesting outdoor recreational opportunities in the Space Coast.  The site is also formatted in a fun, comfortable site layout.