Visitors Guides & Local Information for Florida's Space Coast Area
When planning a trip to the Space Coast, some local area insider information can be of great benefit. This section of Space Coast Florida is designed to provide helpful resources, links and articles for your research as you plan your adventure. Be sure to check out the links provided and print any pages of interest in the online guides for future reference.
Space Coast Travel Planner
A vacation planner is one of the many useful tools to get started when planning your Space Coast getaway.  Visit Space Coast is the Brevard area tourism organization and provides a free Space Coast vacation planner by mail. Space Coast visitors who are unable to wait for the printed version can view the online version instead.
If you haven't taken the time to check out this travel planner, you are missing out on some great things Florida's Space Coast has to offer.  With more than 100 pages, this vacation planner is much more.  It can also be a great tool for local residents to see what's available in Brevard County.
The sections are divided into specific areas of interest and can be quickly selected from the contents tabs.  No need to flip through all the pages to get to your topic.  Take a moment and view some of our featured destinations and businesses in the Florida Space Coast area.
Adventure Guide by Visit Space Coast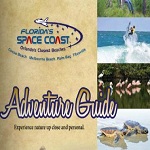 Another valuable resource for planning your activities is the Space Coast Adventure Guide provided in an online version by the same agency. This informative article has excellent overviews of the many area recreational opportunities in Brevard County's Space Coast.
The Space Coast Adventure Guide not only includes information about Brevard County, but the adjoining areas of interest as well. Many of these destinations are unfamiliar to even the locals. Whether a visitor to the Brevard Space Coast area, or a long time resident, everyone will discover additional areas, events and activities of interest within its pages.
Visitor Guides for Other Florida Areas
Planning a trip to other Florida areas? A recent article developed by Florida Nature Guide for Florida visitors is the Florida Visitors Guides article. Within this post, you can explore many of the destinations of interest in Florida and locate the area guides available for download, viewing online or to order a printed copy.
The Florida Visitors Guides article will be updated as new visitors guides become available or are identified by our research, so be sure to return again for updated information.
Books and Other Guides for Florida's Space Coast Recreation
Explore more of the Space Coast area with some of the guides, books and maps available for the area.  Featured below are some of the top guides available for local area interests available through Amazon.
If you are a Space Coast resident or have time before your visit, check out some of these tools to make the most of your visit.   Many of the featured items will make a great addition to all your Florida travel plans as well.
Note:  You can turn the carousel with the directional buttons and view more details about any of the displayed items, or search their site for additional tools to make the most of your Space Coast visit.